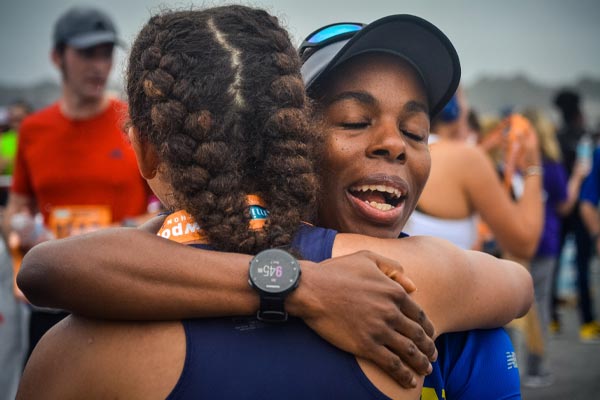 Can I walk the course?
newportmarathon
2020-01-21T19:37:20+00:00
Yes, as long as you can maintain the course minimum pace. All participants must be able to finish in 6 hours for the marathon, and 3.5 hours for the half-marathon. This requires a pace of 16:01 per mile. for the half marathon, and 13:44 per mile for the marathon. Runners who do not meet the cutoffs will be asked to move to the sidewalk and/or escorted to the finish area in a vehicle, as determined by race officials.
Marathoners who do not reach the 13.1-mile mark by 3.5 hours will be redirected to the half marathon finish line. We appreciate your understanding and respect for the communities we impact and the volunteers who serve and make this event possible!
Registration Policies
Gray Matter Marketing is a small business dedicated to promoting a healthy lifestyle with charitably focused events that highlight the communities we are fortunate to call hosts cities.
We are not able to offer refunds. However we do offer any registered runners the opportunity to request a race credit for your full value. Detailed information below.
Extreme Weather Policy
The oceanside course is exposed to wind and the elements. Runners should monitor the weather leading up to race day and prepare accordingly.
Our events are held rain or shine. However, there is always the potential for extreme or severe weather conditions. Race organizers will do as much as we can to ensure the experience is as safe as possible. In the event of severe weather, the race may be delayed as race officials consult public safety officers. If there is more than a short delay, if conditions persist, or the forecast calls for extreme weather, race officials reserve the right to alter or cancel the race. We do not schedule "rain dates". Any decision to cancel an event is done as an absolute last resort and is made collectively with local risk management, police, fire & rescue, and medical personnel as appropriate. In such situations, there will be NO REFUNDS as registrants accept any such risk of their entry fee when signing up.
Please check the website, our Facebook page, and your email before the race for any changes or cancellations.