The Amica Newport Marathon and Half Marathon have been voted;
"Best Marathon" 2023, 2022, 2021, 2019, 2016, 2015
"Best Half Marathon" 2023, 2022, 2021, 2019, 2016, 2015
"Top 20 Half Marathon in US" 2019
"Best Race Swag" 2017
Join us at the 15th annual Amica Newport Marathon on Sunday, October 13, 2024. With 13.1 and 26.2 miles of unrivaled oceanfront running, this award-winning fall classic in the City by the Sea is not to be missed!
2024 registration is now open! Register before 12/31 to save.
| Schedule | Marathon | Half Marathon |
| --- | --- | --- |
| Early Bird: 10/24 – 12/31 | $100 | $75 |
| Winter: 1/1 – 3/31 | $110 | $80 |
| Summer: 4/1 – 7/31 | $120 | $85 |
| Fall: 8/1 – 10/9 | $130 | $90 |
| Onsite | $140 | $100 |
| Virtual | $40 | $40 |
| Schedule | Marathon | Half |
| --- | --- | --- |
| 10/25 – 12/31 | $100 | $75 |
| 1/1 – 3/31 | $110 | $80 |
| 4/1 – 7/31 | $120 | $85 |
| 8/1 – 10/9 | $130 | $90 |
| Onsite | $140 | $100 |
| Virtual | $40 | $40 |
Virtual Offering
The virtual offering includes a shirt and medal mailed following the race, and individual results are posted once a runner submits their time. Virtual runners will not be assigned a bib and are not allowed to participate on race day.
Military Discount
The Amica Newport Marathon extends its thanks to those serving our country. We invite active, reserve members and veterans of all military branches to email us to receive a discounted registration.
What Do I Get?
Short sleeved tech shirt (men's and women's cuts)
Race specific finisher's medal
Athlete Shirts
All participants will receive a short sleeve tech shirt at Registration and Packet Pick-Up. Please note that shirts are ordered months in advance of the event and that size quantities are based on what participants indicated when they registered. For this reason, we ask that you please pick-up the shirt size you registered for.
Donate Your Shirt to Charity
Runners are able to opt out of receiving your event t-shirt when registering. We will then in turn donate the cost of producing that shirt to our partner charities, and announce the donation amount from this initiative following the event.
2023 Shirt & Medal Designs
2024 shirt and medal revealed in summer.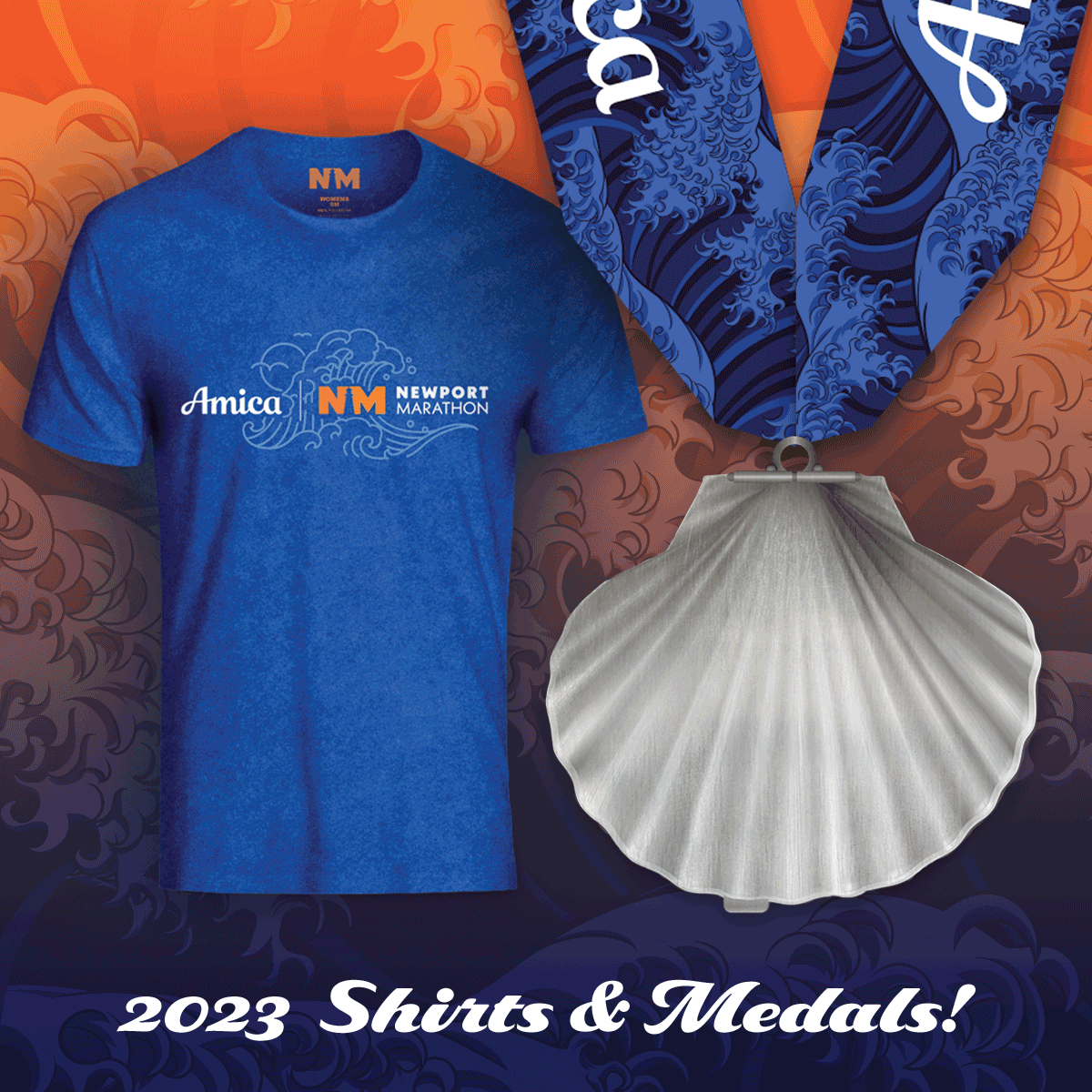 Elite Runners
The Amica Newport Marathon offers complimentary entries to runners who have achieved the following:
Male Elite Runner Qualifying Times
Marathon – 2:28
Half Marathon – 1:12
Female Elite Runner Qualifying Times
Marathon – 3:00
Half Marathon – 1:25
Please contact us with your race results if you meet the criteria above.
Registration and Bib Pick-Up
Friday
5:00 PM – 6:30 PM: Packet pick-up & Registration
Location: Easton's Beach, East Parking Lot (map)
Saturday
12:00 PM – 5:00 PM: Packet pick-up & Registration
Location: Easton's Beach, East Parking Lot (map)
Sunday
5:15 AM – 7:15 AM: Packet pick-up. NO onsite registration
Location: Easton's Beach, East Parking Lot (map)
All participants must show a photo ID at pick-up. Participants may pick-up for friends and family, but must provide a copy of the ID or a photo of the ID on their phone for verification.
Please note: Race participants picking up their bibs on Sunday will not receive their shirts until after the race due to race morning time constraints.
Registration Policies
Gray Matter Marketing is a small business dedicated to promoting a healthy lifestyle with charitably focused events that highlight the communities we are fortunate to call hosts cities.
We are not able to offer refunds. However we do offer any registered runners the opportunity to request a race credit for your full value. Detailed information below.
Extreme Weather Policy
The oceanside course is exposed to wind and the elements. Runners should monitor the weather leading up to race day and prepare accordingly.
Our events are held rain or shine. However, there is always the potential for extreme or severe weather conditions. Race organizers will do as much as we can to ensure the experience is as safe as possible. In the event of severe weather, the race may be delayed as race officials consult public safety officers. If there is more than a short delay, if conditions persist, or the forecast calls for extreme weather, race officials reserve the right to alter or cancel the race. We do not schedule "rain dates". Any decision to cancel an event is done as an absolute last resort and is made collectively with local risk management, police, fire & rescue, and medical personnel as appropriate. In such situations, there will be NO REFUNDS as registrants accept any such risk of their entry fee when signing up.
Please check the website, our Facebook page, and your email before the race for any changes or cancellations.